This is another post in the
A-Z blogging challenge series
, where we're gonna fill up the Internet, one letter at a time.
Today's post is all about
The Hitchhiker's Guide to the Galaxy
(or H2G2 for short), a trilogy of five novels by Douglas Adams. Since it's also a science fiction, this also counts as a
None of My Business
post, so two birds with one stone.
H2G2
has been created in a huge variety of formats: a BBC radio play, a series of novels, a BBC TV series, a movie and a computer game. And the best thing about them is that each iteration of the story is awesome in its own way.
For those of you who've never heard of this at all (again, I'm addressing those lucky dozen cave dwellers out there), the story follows the (mis)adventures of Earthling Arthur Dent who, following the destruction of his entire planet, end up travelling to a long lost planet, the end of the Universe, a second Earth, and through time itself to name a few places. Arthur also finds love, loses it, finds it again, kills the same thing over and over again, goes to an inside out house, steals a ship, visits Norway (let me repeat that: he visits
Norway
. Freakin' Norway!) and attempts to unravel the questions to Life, the Universe and Everything, of which the answer is 42 (it's so simple, a mouse could figure it out - well, they would, seeing as they are the most intelligent species on the planet; dolphins being second and humans being third).
The story is hilarious, and contains a wealth of side information, supposedly taken from the guidebook the series is named after, that keeps you laughing from start to finish. If you've ever liked the works of Terry Pratchett and are interested in sci-fi at all,
H2G2
is your next step. Many parts don't really make much sense, but that's the beauty of it; the fact that they don't make sense makes them even funnier.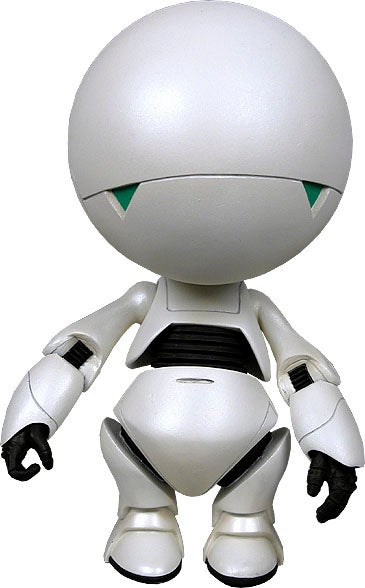 Marvin the Paranoid Android
A few years back, a movie adaption was made of the first book, which starred Martin Freeman, Bill Nighy, Sam Rockwell, Zooey Deneschal, Alan Rickman, Mos Def and John Malkovich. From what I've read/heard, the US movie goers didn't really 'get it' whereas a lot of Brits lapped it up (Douglas Adams, like Terry Pratchett, inserts a lot of distinctive British humour into their works, so it takes a certain sense of humour to find it funny).
In any case, everyone should at least read the first novel of the trilogy. That's an order, by the way. Go do it now! If for nothing else,
H2G2
needs to be read for Marvin, the manically depressed robot (also known as 'the paranoid android').
Join me here tomorrow at 1pm (GMT) for the
24 hour read-a-thon
. That's right, give or take a couple of hours (I have to work, and
Doctor Who
is on) I'll be reading for 24 hours straight! Am I crazy? Sure as hell will be when it's over! Plus a bonus blogpost: I!!!
For those of you who have read/watched/listened to
H2G2
, what's your favourite moment/character/quote. Mine would be Marvin from
The Restaurant at the end of the universe
:
Zaphod Beeblebrox: "Marvin! Where have you been?"
Marvin: "In the car park."
Zaphod: "What have you been doing there?"
Marvin: "Parking cars."