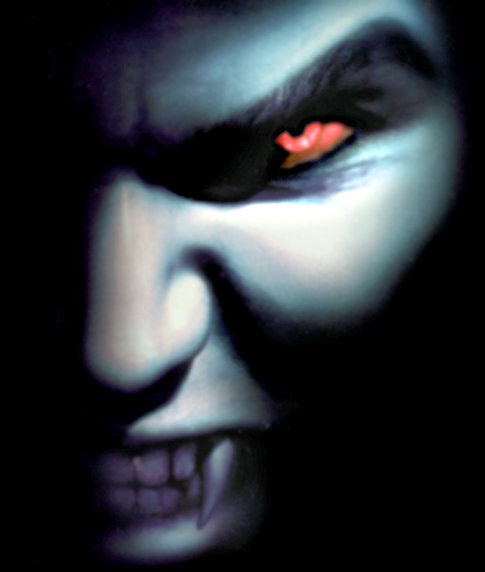 Another post in the A-Z blogging Challenge series, hosted by tossingitout. It's the challenge with extra bite, but no sparkles (this is a good thing, take note Twilight fans).
Today's post is all about vampires. I've been fascinated with them for as long as I remember, and the fascination hasn't stopped at all. I'd read about vampires in children's books, in particular Room 13 (where a group of English school children spend time at a seaside hotel, only to discover that a vampire lives in one of the rooms). My first movie vampire experience was watching Interview with the Vampire, based on Anne Rice's novels (it was only after watching the movie again while at University that I saw the homoerotic overtones to the movie).
What is it about vampires that so fascinates me? I love the predatory aspect of them. I'm not into the whole 'I'm immortal and I've never known love, please sex me up' aspect of vampirism. I see vampires more like lions or wolves, real predatory animals that'll kill you without mercy because you're their food. The best example of these kinds of vampires that I can see are in Blade. Deacon Frost (Stephen Dorff) is a viscious, bloodthirsty (literally!) predator with no concept or care for the human condition. This, ladies and gentlemen, is a vampire.
Another thing that I've found really interesting about vampires is that many many cultures throughout history have had some sort of belief in them. My current research in University is looking into the Ancient Egyptian belief in vampirism.Not the undead Slavic vampires of popular fiction, but their religious beliefs involving drinking blood (they did have them, trust me on this).
Are you a vampire fan? What would be your #1 vampire and why? (If you say Edward Cullen, I'll leave the comment up, but I won't be held responsible for the backlash that is thoroughly deserving).
P.S. This is posting on a wing and a prayer. I'm having some serious trouble with my Internet connection at the moment i.e. the others in my house are draining it by streaming anime.